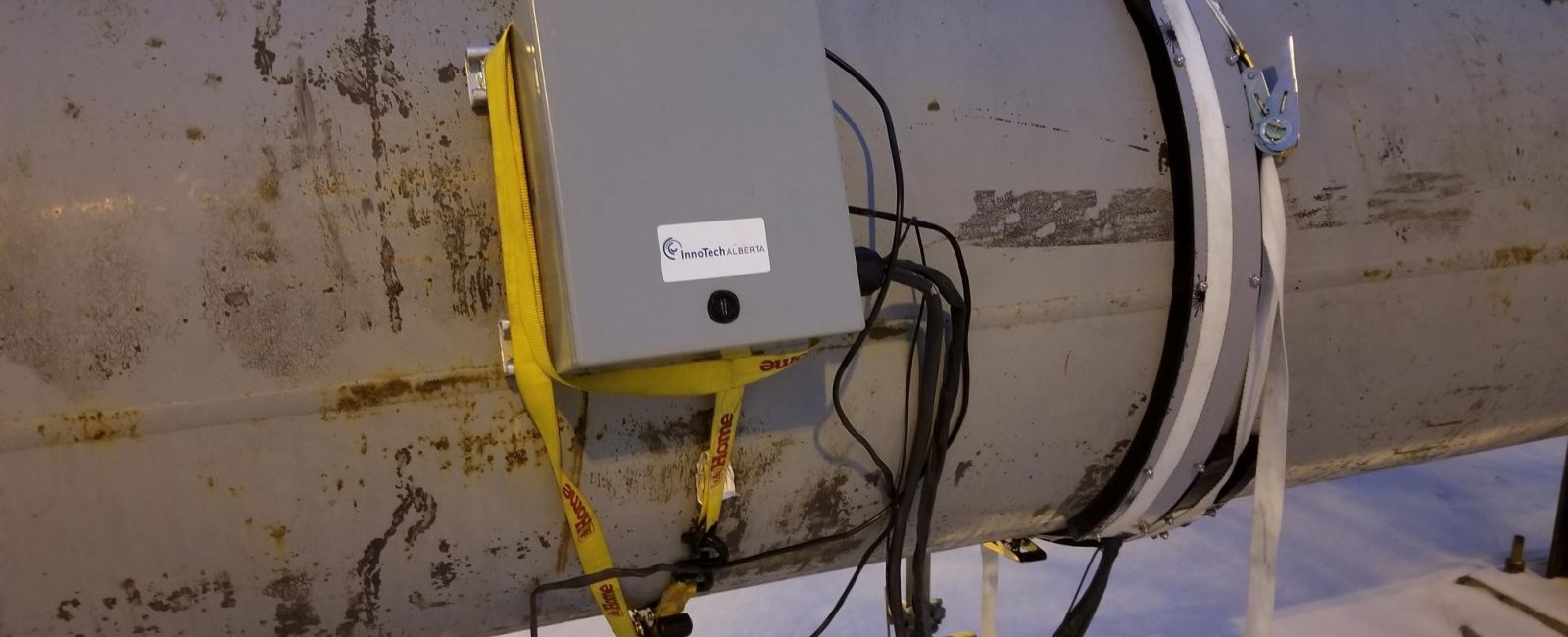 Pipeline owners and operators may soon be able to better predict when maintenance work will be required on pipes and prevent unexpected failures thanks to a new sensor prototype.
Slurry pipeline owners and operators, and pipe material vendors, have expressed a need for a more cost-efficient, sustainable system to address these challenges. The first-of-its-kind, made-in-Alberta Passive Acoustic Wear Sensors (PAWS™) system is a solar powered sensor that monitors the thickness of wear-resistant non-metallic pipe liners used in slurry transport applications. PAWSTM uses acoustic sensors placed around the outer surface of a slurry pipeline that listen for changes in pipe wall thickness. What differentiates this sensor from other commercial offerings is that it provides long term, real-time monitoring, is entirely portable, is non-intrusive and non-invasive, and is not permanently fixed to the pipe. It can be removed easily from a pipe section and re-installed on another indefinitely, making the PAWSTM system a sustainable option compatible with virtually any pipe vendor product.
InnoTech Alberta installed a PAWS™ system at an oil sands mining producer's site in November 2021. With early results in the field trial confirming that PAWSTM is functioning well, several product commercialization options are under review and further updates are expected in late 2022.
Non-metallic liners are installed in thousands of kilometers of oil sands and mineral mining slurry pipeline systems worldwide, and their use is increasing. Considering potential global demand, PAWSTM could save pipeline operators tens of millions of dollars annually in maintenance costs. Pipeline operators can use these sensors to forecast and optimize pipeline maintenance work and prevent unexpected failures and outages. PAWS™ collects near real-time pipeline wear data, which can also be used to understand how non-metallic liners respond to changes in pipeline operating conditions.
Companies interested in learning more about PAWS™ or participating in a PAWS™ joint industry project, should contact Martin Huard at martin.huard@innotechalberta.ca.
The working principle of the sensor was discovered in 2018 thanks to funding support from InnoTech's Strategic Investment Grant (SIG). The development of a field-ready PAWS™ prototype and testing is a project funded by the Materials and Reliability in Oil Sands (MARIOS) Program, an industry-led consortium managed by InnoTech Alberta.