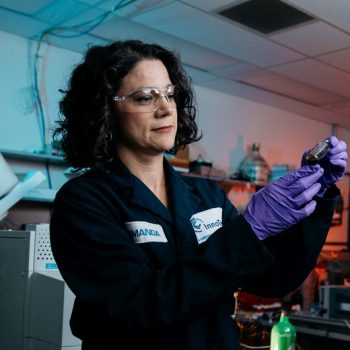 Amanda Prefontaine
Supervisor, Upstream Lab
Professional Bio
B.Sc. in Chemistry | University of Alberta 
Chemical Technologist Diploma | Northern Alberta Institute of Technology (NAIT)
P.Chem. | Association of the Chemical Profession of Alberta (ACPA) 
Amanda Prefontaine is the Supervisor of InnoTech Alberta's Upstream Lab, which performs chemical analysis and testing services. Prior to joining the company Amanda spent a decade working for Schlumberger analytical chemistry lab, running it for the last five years of her time there. Amanda also gained extensive experience working on polymer research projects with oilfield applications. During that time, she was part of a team that developed methodologies and worked on the design and set up of new instrumentation. 
While working there she was sending samples to InnoTech Alberta laboratories, and began to take stock of the organization's reputation for high-quality work and applied research.  
Amanda enjoys working at InnoTech Alberta because no day is ever the same! Clients have approached her team with unusual samples or process issues, and she loves that she and the team get to solve problems by modifying tests, reimagining methods, and adapting as they go. Amanda considers this is a real strength of the team. 
Highlights of her time at InnoTech Alberta so far have been her group's work with Transport Canada and the U.S Department of Transportation on the Crude Oil Characterization Research Study, which involved evaluating sampling and testing methods and dangerous goods classification for crude oil. The project helped guide regulations for crude oil in Canada and the U.S. She also worked on the CanaPux™/Bitumen Pucks Development project which resulted in a patent being issued.  
Amanda and her team are active with industry organizations such as the ASTM-Petroleum sub-committees, CGSB petroleum committees, and the Canadian Crude Quality Technical Association. 
When not in the laboratory, Amanda likes to catch up on reading and spend time with her family.