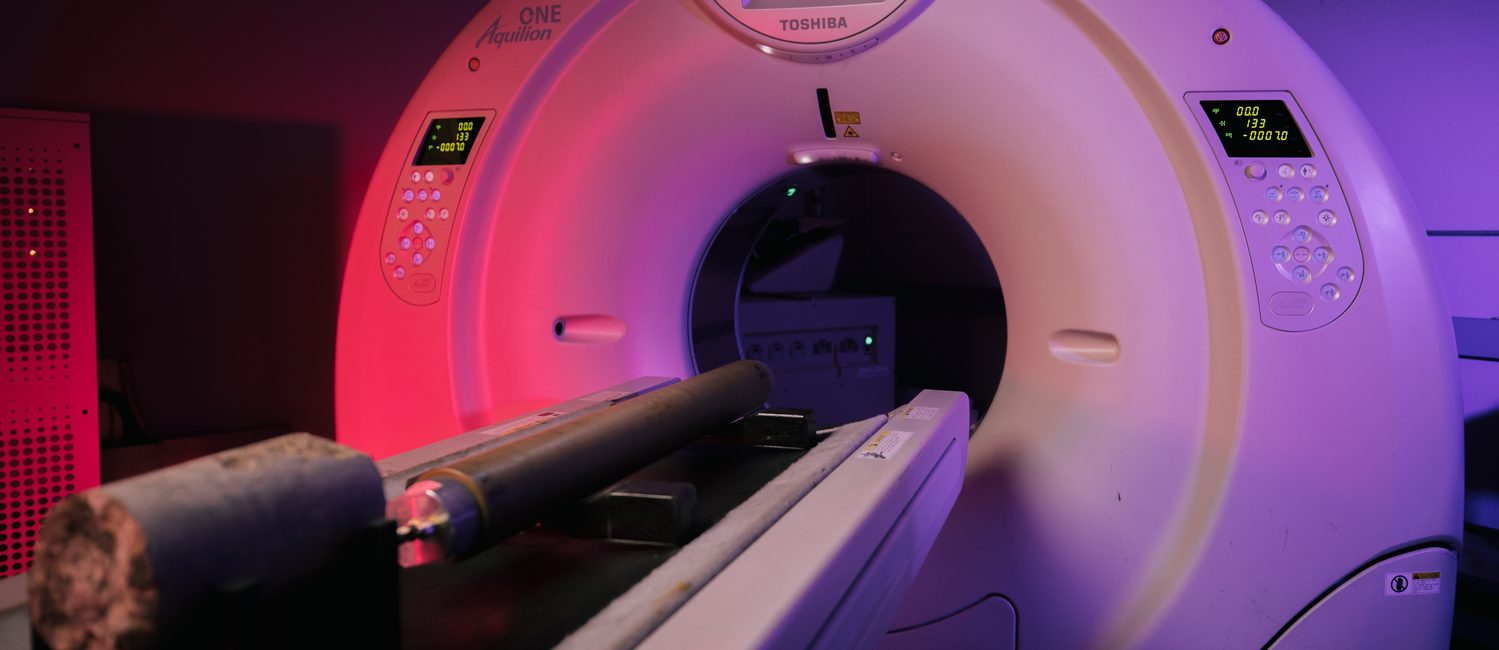 Most often, when we think of CT Imaging, we think of trips to medical centres or uncomfortable body scans administered by airport security personnel.
While Alberta's heavy oil doesn't spend much time jet-setting, it is a precious commodity that we are trying to coax out of the ground with increasing efficiency and ease. Heavy oil and bitumen, which form a significant portion of Canada's petroleum production, usually requires expensive, energy-intensive recovery methods, whether mined or extracted in situ.
At InnoTech Alberta, the Reservoir and Geosciences team is using CT Imaging to study the application of waterflooding as an alternative method for recovering heavy oil. The goal is to develop recovery processes that are inexpensive, non-thermal and less carbon-intensive.
Waterflooding is a tried and true method for recovering light conventional crude, but these reserves are increasingly less abundant in our province. By studying the interactions of oil and water in the pore spaces of petroleum-bearing sand, the InnoTech team is working alongside others in the industry to realize its goal of a heavy oil recovery process using waterflooding.
Members of our Reservoir and Geosciences team recently visited Canadian Light Source (CLS)—Canada's national synchrotron light source facility and a partner since 2013—located on the grounds of the University of Saskatchewan in Saskatoon. They were involved with an imaging experiment using a powerful radiation beam, created by the synchrotron, to achieve high-resolution images, as part of a project under our AACI Research Program consortium, established by the Alberta Research Council in 1983.
While the details of the experiment are client-confidential, the basic principle was to inject brine and polymer into a sand pack saturated with heavy oil. During injection, the sand pack was CT-scanned, allowing experimenters to observe the sample in a way that would be impossible with the naked eye. In doing so, it was possible to determine how the brine and polymer behaved while displacing heavy oil from the pore space in the sand. The results have implications for using this waterflooding method on a larger field scale.
The results of previous experiments of a similar nature were published by the Society of Petroleum Engineers (SPE) in 2014.
The partnership allows the Reservoir and Geosciences team to access CLS' specialized high-res equipment. More commonly, the team performs fee-for-service client experiments in the CT – Quantitative Imaging Centre at our Edmonton Research Park facility, which provides tomography imaging, image processing and visualization with an emphasis on the accurate extraction of quantitative information. The Centre's primary focus is support for applied research and development in the areas of petroleum recovery, digital rock and advanced materials. The services of the Centre are also available for industrial and academic use.
Western Canada has the world's second largest reserves of heavy crude oil, making it a coveted asset for domestic producers. With our support, some of the typical hurdles of heavy oil production are being overcome, making this resource ever-more viable from both economic and environmental perspectives.