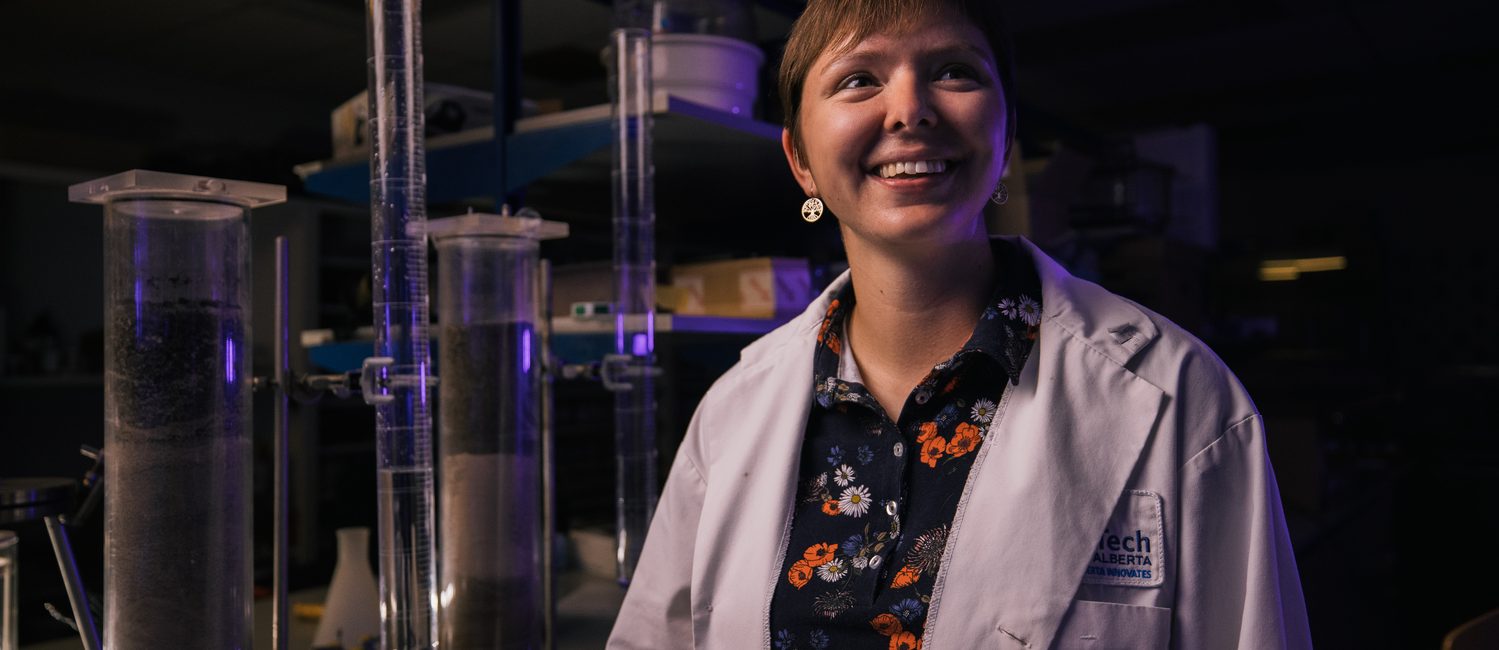 Some would say the secret to building a successful career path is continually keeping open to new possibilities. That's certainly been the experience for InnoTech Alberta researcher Sarah Thacker.
Back in 2011, Thacker, remembers being daunted by different career choices as a first-year student at the University of Alberta.
"I had a kind of tortuous path initially at university, trying to figure out what I wanted to do," remembers Thacker, who grew up in Edmonton.
Looking to pursue a career that could make a difference to people, she first enrolled in psychology courses. But these weren't quite the right fit. Then, she sat down to talk over different career ideas with her mother, a science writer, who encouraged her to look into the possibility of environmental science.
Taking her mother's advice, she took an introductory soils classification course in the university's Faculty of Agricultural, Life & Environmental Sciences, and was immediately hooked.
"It ended up being a perfect fit. I soon realized that this new path would allow me to help people by focusing on the environment," Thacker explains.
She had found her chosen field. And so, for the next seven years, she would dedicate herself to completing first a BSc in environmental and conservation science and then a MSc in soil science. To gain additional expertise, she took on teaching assistant (TA) jobs at the university, assisting students with laboratory experiments and helping them identify plant species and learn about ecology.
This work would eventually connect her with Dani Degenhardt, then a research scientist at InnoTech who just happened to be teaching a soils classification course at the university. Working with Degenhardt as the course TA, Thacker soon began learning about InnoTech.
"She told me about the environmental team at InnoTech and the variety of projects they work on. It sounded like exactly what I wanted to do," Thacker says.
With her MSc degree nearly complete and with Degenhardt's encouragement, in 2018 she successfully applied for a job at InnoTech as an environmental impacts researcher.
At first, as a young professional, Thacker faced a steep learning curve in InnoTech's faster-paced, industry-focused work environment. To succeed, she reached out for advice from her colleagues, including Bonnie Drozdowski, then team lead for InnoTech's reclamation team and now the agency's director of environmental services.
"Bonnie really helped me to grow into the role I have now, encouraging me to think creatively when trying to solve environmental problems," Thacker says.
Today, at InnoTech's Edmonton office, Thacker works on a variety of applied research projects focused on soil quality and land reclamation. On any day, she can be found conferring with different experts, carrying out experiments with soil and plant samples in the laboratory, or checking up on field projects at InnoTech's research facility in Vegreville, Alberta.
It's a busy job that she loves. "I really like that at InnoTech we're focused on solving real-world  problems," Thacker says.
With each new project, Thacker, says she's rapidly gained confidence. "I've learned to be continually open to new opportunities and learning on the job. It's a great way to expand what I can do as an environmental professional," she says.
It's message she now shares with young students in Edmonton public schools, when volunteering as a presenter for the Alberta Science Network's Scientist in the Classroom program.
"My advice to students is always: 'Be open. Don't be afraid to try different things as you're learning.' There are so many paths that young people, including young women, can pursue in science and technology."