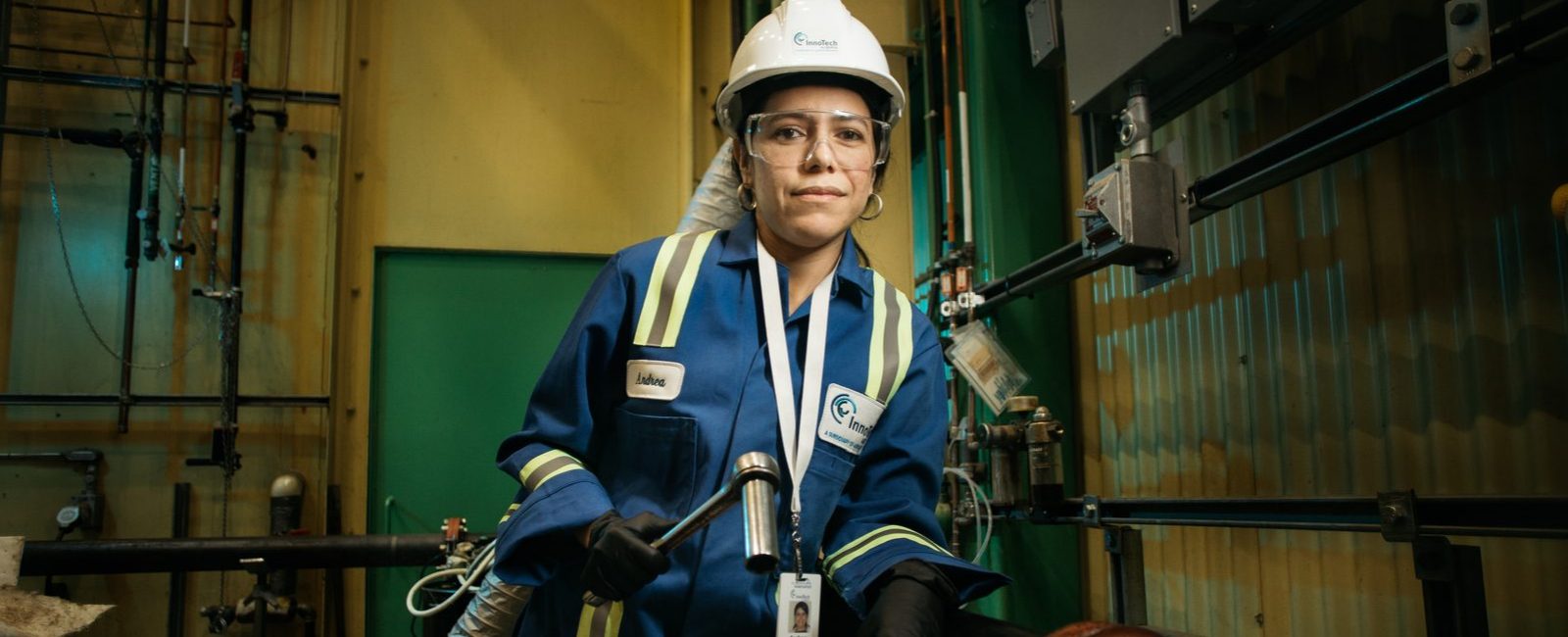 Having a curious mind in the world of science can drive one to journey far. That's literally been true in the case of InnoTech Alberta researcher Andrea Marciales.
Today Marciales has a career as an intermediate researcher in InnoTech's corrosion engineering team in Devon, Alberta. But how she got to where she is now took her thousands of miles from home and started with a love for science.
Marciales grew up in Cúcuta, a city in northeastern Colombia on the Venezuelan border and close to the country's oilfields. From an early age, she remembers having a curiosity about science.
"I was a nerd in school, but I didn't care. Because I found out early I loved science. I was curious about the nature of things, always asking why," Marciales says.
Encouraged by a favorite high school teacher, she decided at the age of 14 she wanted to be an engineer. Borrowing university text books from the teacher, whose son was studying to be an engineer, she began to study chemical engineering in her spare time.
After graduating from high school, in 2010 she completed a BSc in chemical engineering from the Universidad Industrial de Santander in Colombia. For the next few years, she gained experience, working as an engineering consultant for the Columbian Institute of Petroleum.
But a sense of curiosity kept pushing her to consider new opportunities further afield.
From her work at the institute, she learned about other oil-rich geographies like Alberta. Soon she began to think seriously about traveling north to study at the University of Alberta (U of A) to continue her engineering education.  When the university offered her a scholarship, she decided to make the move.
"I wanted to pursue petroleum engineering, and moving to Alberta, which has some of the largest heavy oil reserves in the world, was a natural fit," she explains.
Moving to Edmonton in 2013, she spent the next two years studying for a MSc in petroleum engineering at the U of A. Two years later, in 2015, she graduated, just as oil price commodity prices crashed, hitting Alberta's oil sector hard.
By 2016, and a year into a PhD engineering program at the U of A, she found herself with some difficult choices: To maintain permanent residency in Canada as a newcomer, she could either work or study full-time.
Marciales opted to hunt for an engineering job, despite the challenging economy. She would look for a career opening that could build on her experience, including recent skills acquired as a graduate research assistant.
To make ends meet during her search, she worked at a retail clothes store. She also reached out to build new contacts, volunteering at events organized by the Association of Professional Engineers and Geoscientists of Alberta (APEGA) and the Women in Engineering Summit, a Calgary-based non-profit.
Eventually, she got an important break: At an APEGA event, she met Paul Pastushak, then a senior electrical engineer at Alberta Innovates. After listening to her story, Pastushak offered to introduce her to his colleagues at InnoTech.
"He was very encouraging and gave me hope," she says.
Making new connections at InnoTech with Pastushak's help, in September 2017 she was offered a job as a junior corrosion engineering researcher. Since then, she's been busy in her new role, applying engineering expertise to develop practical solutions, using advanced materials, to control or minimize pipeline corrosion.
"I love the freedom at InnoTech to come up with unique innovative approaches to solve industry problems," says Marciales, who has recently applied for Canadian citizenship.
It's a job she clearly loves talking about, whether in this interview or in sharing advice with others looking to break into an engineering and technology career.
"There is a lot of opportunity out there. But if you're a woman professional, you have to actively network. It is so much easier to advance your career when you have a community of people around you to help and support you."