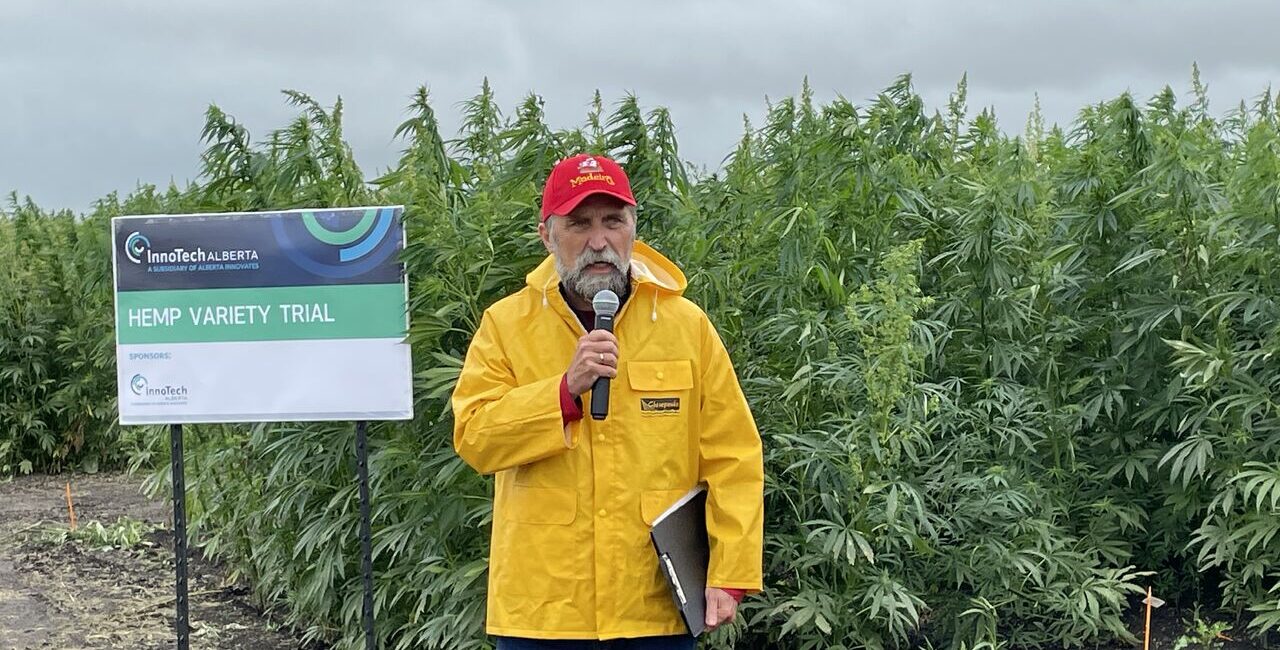 Farming and Freedom

When Jan Slaski graduated with a PhD in agricultural breeding in communist Poland, he received an offer to manage a 20,000-acre state farm. Knowing that this farm would have to operate on the communists' schedule, an "8-5" day, he turned it down.
The state farm was divorced from the reality of true farming, something Slaski experienced on his grandfather's small farm. There he had seen how his grandfather used one particular crop, hemp, to make clothes, weave ropes, grease equipment, and extract kinds of "butter" and "coffee." Starting there, industrial hemp and cannabis became his specialty.
Slaski looked elsewhere for post-doctoral work, "anywhere on the globe," he says. It is ironic that he fled one state farm only to spend decades at another – the Vegreville Agricultural Research Farm, located on 640 acres 100 km east of Edmonton. There he serves as team lead for crop development and management.
The Vegreville Advantage
Slaski and his family settled in Alberta 20 years ago, drawn in first by the welcoming attitude of Albertans, then by the opportunities for his own line of research – industrial hemp and cannabis, and finally by the research capabilities on the Vegreville farm, unmatched anywhere.

Clearly, Slaski savours freedom. He sees it in his colleagues – well qualified professional and technical staff — who are free from requirements to publish work, retain intellectual property, maintain corporate affiliations, or transfer out to other projects as a graduate student might. He likes that Vegreville's technologies support research that can be approved and conducted quickly, over weeks or months, as opposed to several growing seasons. He likes the farm's progressive and innovative approach.
He is especially proud that the research farm has incorporated machine learning, led by Ralph Lange of the bio industrial services group. This is something companies have been using for big crops like corn, soybeans or wheat.
In Vegreville, the AI system has learned to detect verticillium stripe disease early in greenhouse trials for canola, working from a series of photographs on test plants. It builds an accurate model of the disease, at an enormous saving in skills and labour. The research farm has all the needed capabilities in place– the AI, engineering, plant pathology and botany, available at a fraction of the cost anywhere else. While canola is the "test" bed for Vegreville's machine learning, Lange's team is willing to work with any crop, even exotic plants.
These advantages extend to the rest of the farm. Slaski says: "For one client, we can streamline a project from a bench test to field test, a research continuum within a one-stop shop. We have 36 growth chambers, accommodating germination to flowering to full maturity. We control carbon dioxide, light, temperature, and humidity. We even have a cold chamber to test hardiness in grains and canola. All these are programmable.
"Further, we have 18 greenhouse compartments, including two with soil beds as a stage between greenhouse and field testing. We can recreate field soil, with layers of permeability and even contamination, with probes in each. It is not just a pot of soil like the others. We are the only one with this, that I am aware of." The greenhouses are unusually high, handling hemp plants that grow to four meters and even trees six metres or taller. Additionally, the Vegreville farm has the only fibre testing facility in the world, well known as far away as Australia.
If it is happening within a changing climate, they can simulate it. If it is related to drought, heat, flooding, disease and more, they can work on it – from start to finish.
When Jan is not working on the farm in Vegreville, he is presenting his research on hemp throughout the world, in Denver and New Zealand, the month of this interview.
For more information please contact Jan Slaski at jan.slaski@innotechalberta.ca